Hello,
I am Gabu Milford, born in 1991 in the Czech republic.
You can also find my e-shop on this website, I have a fashion brand – original prints on textile.
I studied art for 13 years, finished with Bachelor´s degree (BcA.) at Academy of Arts, Architecture and Design in Prague in 2019. I mainly draw by hand, design in Photoshop and edit videos in Premiere.
Here is what I can do for you:
Design of prints on textile / Merch
YouTube / Article Thumbnails
Video editing with simple graphics in Adobe Premiere Pro
Storyboards
Logos / Icons
Graphics and Digital illustrations
Drawings, paintings and Illustrations
CD and Book covers
Photoshop retouch and collages
Posters, flyers, banners, …
Social media templates in Canva or Figma
Website design – I can´t program it but I can design the look and cooperate with the programmer
Wedding Announcements
Storyboards / Comixes
Storyboards for Hanácká vodka, Heffron rum and Stará Myslivecká in collaboration with Seabrook studio, few examples.
Graphics and merch
New 3D flamingo visual for Hanácká vodka in collaboration with Seabrook studio.
Cut out board for taking photos at the music festival
Merch for Jiří Procházka (BJP). He currently competes in the UFC organization – he is the light heavyweight champion since June 2022. He became famous in Japan, where he lived and loves Japanese style.
Music CD cover and flash disc cover for a band Ibby&Crew.
Merch for food bloggers Authentic Food Quest.
Visual and merch for of this Mexican restaurant Las Chulas in Canada. I didn´t draw Don Jalapeňo and neither Doňa Elote.
I corrected the outlines and came up with the colourful triangle visual which unified the logo and merch.
Canadian travel agency merch for autumn and winter.
Merch for political party Vivat Klánovice in collaboration with Seabrook studio.
Merch for drone filming company František dron.
Prints and embroidery
you can see my prints here: http://gabumilford.com/shop/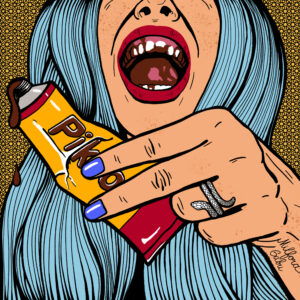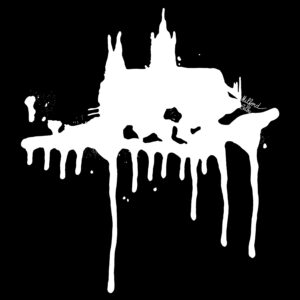 Logos / Icons
Photoshop retouch
Product photo and retouch for Diana svět oříšků in collaboration with Seabrook studio.
Graphics and Digital illustrations
I digitalized this drawing I drew and created a music video with a little animation and lyrics for a music band I potrayed in it.
Illustrations for magazine INK.
YouTube/Article Thumbnails
Video editting
I cut the scenes and added little animation/ graphics based on the melody of the music.
This is a short animated movie I made.
I edited videos for this channel for three years.
Webdesign (just the design, I can´t program it)
.
.
.
.
Wedding Announcements
Paintings
This painting is a final picture of a stop motion animation with song lyrics.
Drawings and Illustrations
My bachelor´s project.
Velcro strickers on Tshirts.
Flyers / billboards / banners